Nature Journaling: Getting Started! Eisenhower Park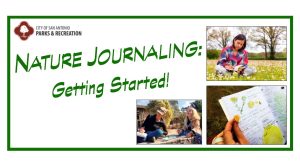 Explore and connect with nature in a fun setting
Capture your nature observations with your own words and sketches—no art experience needed!
Develop your observation and drawing skills
Who? All ages! Limited to 12 participants
Where? Eisenhower Park, Pavilion 2 and Yucca Trail (accessible). We will begin in Pavilion 2 and then cover up to 0.4 miles on paved asphalt trail with moderate slope.
When? Saturday, April 2, 10:00-11:30 am
Cost? Cost is free. Blank journals and art supplies will be provided, but feel free to bring your own.